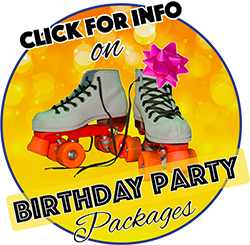 Skateland Hours:
Saturday: 1:30pm - 4:30pm & 7:30pm - 10:30pm
Sunday: 1:30pm - 4:30pm
Thursday: 6:30pm - 9:00pm
Summer Skating Schedule:
June 1, 2018 to September 2, 2018
---
We have rental skates as well as a variety of skates and skate accessories for sale. The skateland does not allow roller blades.
Skate, eat, shoot pool, air hockey, and arcade games!
We offer private parties on Sunday, Monday, Tuesday, Wednesday, and Friday evenings.
Call (715) 384-3326 for private party information
Skateland