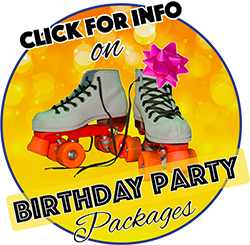 Skateland Hours:
Thursday: 6:30pm to 9:00pm
Saturday: 7:30pm to 10:30pm
Click Here to view/download the summer calendar.
---
We have rental skates as well as a variety of skates and skate accessories for sale. The skateland does not allow roller blades.
Skate, eat, shoot pool, air hockey, and arcade games!
We offer private parties on Sunday, Monday, Tuesday, Wednesday, and Friday evenings.
Call (715) 384-3326 for private party information
Skateland
---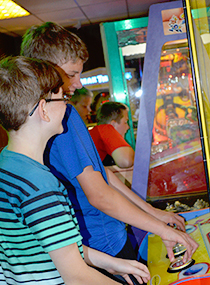 June 1, 2017 to September 2, 2017
Thursday 6:30 pm to 9:00 pm & Saturday 7:30 pm to 10:30 pm
We will also be open from 1:00 pm to 3:30 pm & 4:30 pm to 7:00 pm on the following Tuesdays with these specials at both sessions:

Tuesday, June 13th
Roll into summer - Admission $1.00, skate rent 50¢. Prizes!!
Tuesday, June 20th
Food Drive Day - Admission and skate rent $1.00 with food drive donation.
Tuesday, July 18th
Celebrate National Ice Cream Day - Admission, skate Rent, & an ice cream cone - $3.00
Tuesday, July 25th
Skate For Charity - Admission $2.00 & skate rent 50¢ - Part of the proceed will be donated to the charity with the most votes that day.
Tuesday, August 1st
Girls skate free from 1:00 pm to 3:30 pm and boys skate free from 4:30 pm to 7:00 pm. All other skaters: $2.00 admission, 50¢ skate rent
Tuesday, August 8th
Balloon Drop Day - $1.00 Admission, 50¢ skate rent - a prize with every balloon.
We will be closed for skating floor maintenance from
June 25, 2017 to July 14, 2017.
We will re-open for skating on July 15, 2017, 7:30 pm.